If there is flooding in your neighborhood, a leaking water fountain or street light out, if you have witnessed a sidewalk hazard or sewer spill, the City now offers a Community Request for Service Portal (CRSP) that is making service requests easier than ever from your phone or computer with faster responses.
Resident Karen Poret finds it an efficient way to have her concerns addressed. "I use this tool to report trash left behind by homeless persons in campers, and graffiti, most of the time." The graffiti (above) at Market and Catalpa streets was removed within hours of Karen's request.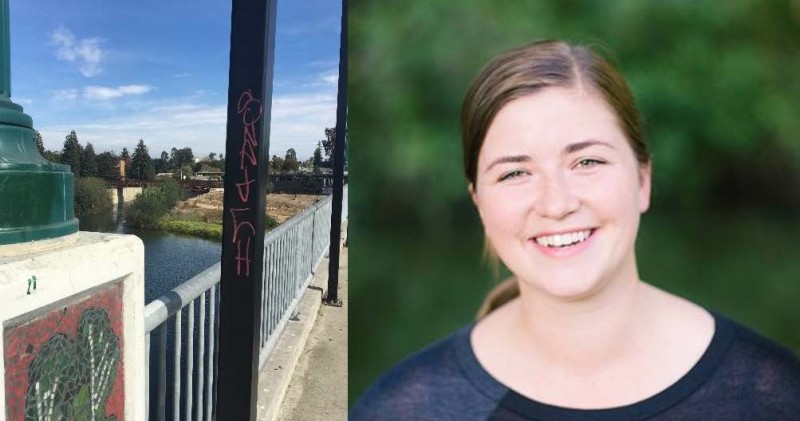 Laurie Egan, programs director at the Coastal Watershed Council, also attests to the new system's efficiency. "I use the CRSP app when I walk the Santa Cruz Riverwalk every day. If I come across graffiti or a hazard in the walkway, I snap a quick photo and upload it. I find that City staff address the issue within 24 hours of my reporting. It feels good knowing that I can make a difference in keeping our parks clean and accessible!"
The CRSP user-friendly app allows you to map the issue location and upload photos of it. You can opt to be sent a notification upon resolution. CRSP is available in both English and Spanish via this reporting webpage and for mobile use through Google Play and the Apple Store.
The photos above were submitted by a westside resident with this description: "During this last rain event the water flooding Delaware Ave created an erosion issue/hole near the guard rail at Antonelli pond. This potentially could be the start of a larger problem that may undermine the berm and affect the integrity of the road." The issue was repaired by City staff in less than 24 hours.
"CRSP is a tool that makes our response time quicker," said Parks and Recreation Field Supervisor Steve Gomez. "Staff are engaged in day-to-day chores much of the time and rely on the community to aid in locating hazards. Their photos help in recognizing the issue so that staff are more prepared when dispatched. Also, the mapping of the issue is of great value because we can easily locate the quickest route to arrive at the scene."
Currently CRSP offers eight customized categories:
Bike or pedestrian hazards on roadways or sidewalks
Encampments
Graffiti incidents on public or private property
Found hypodermic syringes (needles)
Property code violations such as substandard housing, unpermitted units, junk vehicles, trash and debris
Sewer spills or backups
Neighborhood traffic concerns
General requests include anything that does not fit under the CRSP categories above such as potholes and downed trees
These reporting categories are based on analytics that document the most common requests for service. These categories will be updated as needed as CRSP continues to support the City's commitment to the highest quality of customer service possible.
Visit CRSP at cityofsantacruz.com.