How did you get into freediving, spearfishing?
Getting into diving has sort of felt like a natural progression for me. I have been surfing and fishing in the ocean for as long as I can remember and spearfishing is ultimate way to appreciate everything the ocean has to offer. My friends and I started out with surf suits and duck feet fins just messing around with Hawaiian slings and slowly began to learn more about diving and hunting fish. Mike Golder has also taught me a lot about freedive spearfishing with things such as hole hunting in reefs and other approaches to finding fish.
What's it like to be submerged within this underwater world?
Diving is a super unique in that it allows you to see a portion of the ocean that is so absent from most people imagination. It truly is its own world, and when your submerged you really get the sense that your in a domain that isn't natural. On a good dive you can get a real sense of timelessness and since your on a single breath hold, each dive you take is super important to focus on and be in the moment. When everything is moving around you on such a large scale as the ocean, it can make you feel small, and gives you a sense of a lack of control like you have on land. So diving allows you to completely let go, you don't need any control of whats around you, you just live in the moment, nothing previous or future matters, and you enjoy what is directly in front of you. It truly a special feeling when your mind is that clear.
With 2 spear-fisherman recently getting attacked by a white shark in the Carmel area how do you overcome that fear?
Honestly it is a little spooky with the recent shark attacks(I hope the recent victim is recovering well). Theres nothing you can really do though, its their ocean, so I just hope if I ever have a run in with a great white that I have my camera, and it isn't concerned with me in its waters. I almost feel less spooked though diving with sharks because I try to dive when the waters clear, and in or around thick kelp patties, then I do when I surf and can't see below me. Obviously sharks haven't stoped too many people from surfing in Santa Cruz haha, so it's the same deal, you just keep doing it. At the end of the day sharks are a risk we take, but theres not much you can do about it besides not diving, so I'd rather just keep them out of my mind.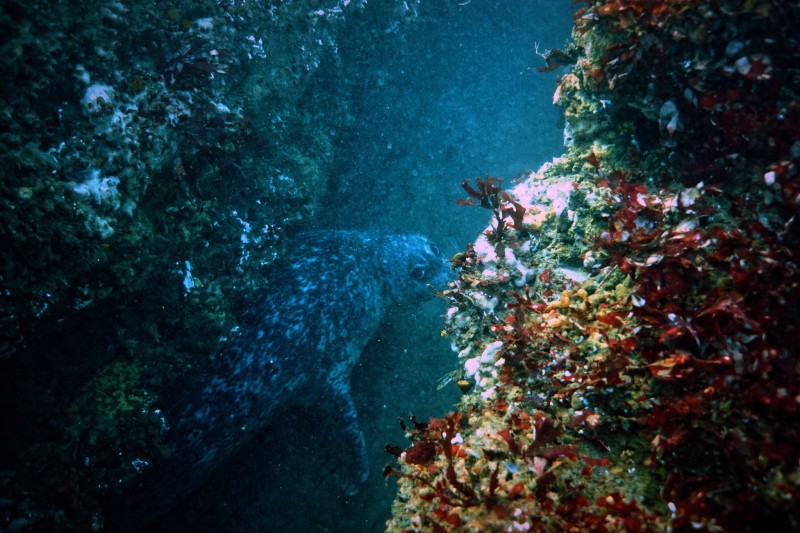 Like surfing, spearfishing has its own set of unwritten rules as well as written ones pertaining to the seasons you can fish and marine protected areas. What would you advise to someone looking to get into the sport?
I would say the biggest thing in spearfishing would be respect for the ocean, and what you take from it. There aren't unlimited fish like there are waves, so take what you need to eat, don't dive and shoot fish for the likes on social media, thats not cool. If everyone dives, and fishes sustainably there will plenty of fish for the future for everyone to enjoy. Diving with a buddy is also huge for safety, spearfishing is very dangerous and many things can happen underwater, so diving with another person for safety is very important.