The 1,200 miles from Santa Cruz to Tofino, a small district on Vancouver Island, off Canada's west coast.
A 1993 Ford Econoline Van named Goose sat happily parked on the street in Santa Cruz with a rebuilt engine & transmission, a newly purchased van topper from Fiberine, and the worst alignment that a car could possibly have. Good enough for the journey, it needed to get us to Tofino.
Queen of the Peak is an Annual Women's Surf Competition that takes place at Cox Bay in Tofino. Kim and I had been wanting to go on a road trip, and this was the perfect reason that kicked us into gear. I don't think either of us understood how big of a journey it was going to be, only having 13 days to complete the mission.
We set off on Saturday afternoon after packing our van. The checklist was long, but the most important items were our surfboards, wetsuits and our solar generator (Inergy Kodiak). We hadn't used it yet, but it turned out to be a life savor. Just one battery life lasted us the whole 2,500 + miles, charging phones, camera gear and heater. ***Check them out! Super rad company- inergysolar.com/ref/8/ !
We made it to Aracta, Ca just in time for the sunset.
We camped at Patrick's Point that night, which is an awesome campsite that has killer views.
Klamath National Beach was one of our favorite spots because of it's insane ecosystem. The river mouth connects with the sea, flowing with so much wildlife. We saw hundreds of Salmon swim up river, as the sea lions, birds and seals tried their best to catch them. It was unreal.
Here are some photos:
With ever bend in the road, the Oregon coastline blew us away.
We drove from the Oregon Coast to Portland. Then drove up to Seattle, finally taking the ferry from Port Angeles to Victoria, Canada.
Once you arrive in Victoria, it's about a 4.5 hour drive around the island to Tofino. We were both shocked by the beauty while trying to figure out how fast we should be driving since everything was in KMs. We made it to our campground, Bella Pacifica and got some rest for the surf competition. The contest was 3 intense days, with wild conditions and tough competitors from all over the world. Coxy Bay is a beautiful beach that offers waves year round. Kim competed in both the longboard and shortboard divisions, placing 2nd in the longboard out of 48 surfers!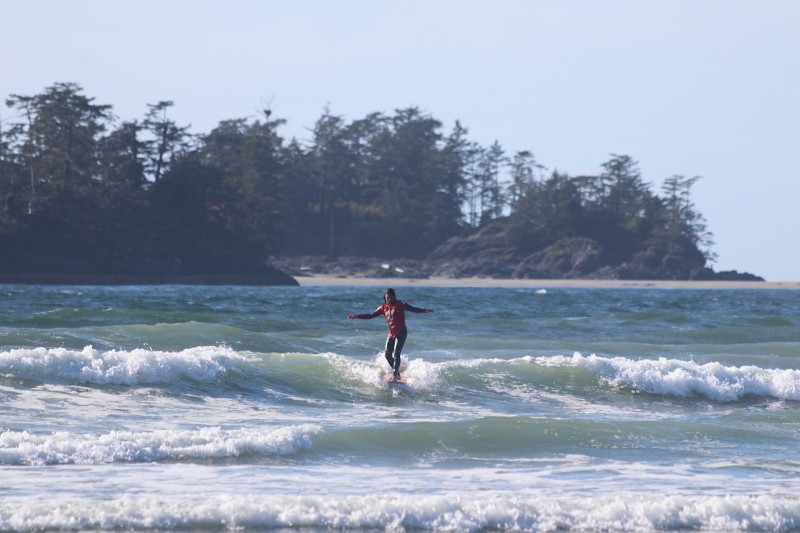 Here some more photos from Tofino!
To follow along on more trips you can follow us at instagram.com/goosevan!