A look at three local restaurants that use ingredients from their own gardens
 By Tara Fatemi Walker
---
Spring has sprung in Santa Cruz, and the season is a great time to celebrate our local bounty. If you're a fan of dining out, take note of these three restaurants that are keeping menus fresh thanks to on-site gardens—not to mention talented chefs.
Seascape Beach Resort featuring Sanderlings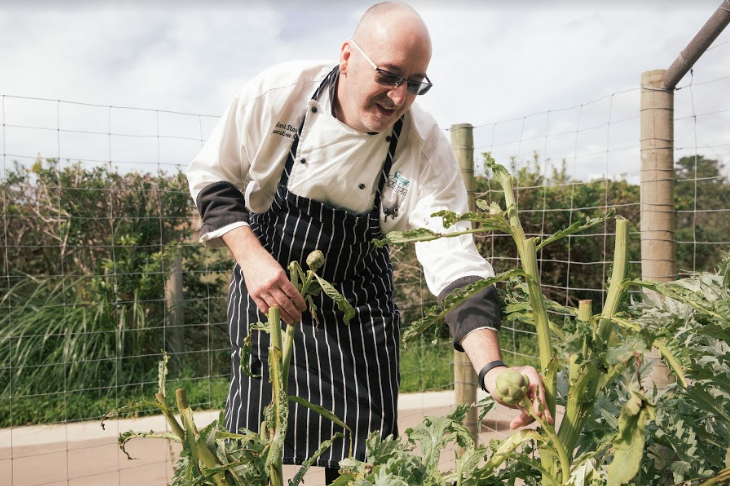 Karl Staub, Seascape Beach Resort's executive chef, started his on-site garden—located just outside the kitchen—shortly after joining Seascape 18 years ago. What began as a small herb garden has grown into a much larger terraced garden with irrigation and a deer fence.
His parents, of German origin but born in Romania, taught him at a young age about the difference it makes to grow fresh, healthy fruits and vegetables. "They had an amazing organic garden," Staub says.
Staub uses everything he grows, which includes lettuces and radishes in the springtime and plants like spinach, chard, tomatoes and squashes at other times of the year. The garden's year-round herbs, used for soup stocks and more, include rosemary, bay leaves (from laurel trees) and pineapple sage. Seasonal herbs include tarragon, which blooms in the summer. "I always use fresh herbs for fantastic flavor," the chef says.
Staub oversees all of Seascape's culinary operations, including its flagship restaurant Sanderlings. He designs menus for holiday events, weddings, and more, while Chef de Cuisine Mario Garcia creates Sanderling's menus. During the last tomato season, fresh heirloom tomatoes inspired Garcia to create a fried green tomato appetizer special. More recently, he used garden sunchokes for a special featuring Alaskan halibut, braised cipollini onions, roasted beets, sunchoke puree and blood orange relish. The garden's artichokes also appear as a starter on the regular menu. Garcia supplements the garden's harvest with produce from local provider Monterey Farms when needed. "We source as locally as we can and look for the best purveyors," says Staub, "like honey from Carmel Honey Co., and items from Nelson Farms and Yellow Wall Farms."
Longtime Sanderlings employee Lindsay Eschleman, who has evolved into the resident mixologist, also regularly uses garden herbs. Fresh mint goes into her mojitos, while rosemary and thyme appear in other cocktails.
One Seascape Resort Drive, Aptos; sanderlingsrestaurant.com and seascaperesort.com.
Home
Home's garden has decades of history, which is why chef Brad Briske selected the location for the new eatery. The property was Theo's restaurant for 20-plus years, then Main St. Garden & Café. Briske was chef there from 2010-2012, and then worked in Carmel for four years (at La Balena and Il Grillo). During this time, the Soquel property changed from Main St. Garden to La Gioconda, which closed in 2016.
Briske opened Home with his wife, Linda Ritten, last November. The garden, which boasts eight terraced vegetable beds, was in great condition when they took over. They added new plants like lemongrass, which Briske calls a "key flavor" for his menu.
"Part of the beauty is there are things here like lemon and apple trees [that are] 30 years old," Briske says. "Same with the sage. It would be impossible to create that out of nothing, to start from scratch—that's why the history is so special."
Rosemary, thyme, borage and rhubarb return to the garden every year. "When we cut herbs fresh from our garden, the flavor, aroma, everything is so much stronger than when it has been transported and touched by more people," Briske explains.
At Home, herbs go into everything: brine, stock, marinades, and sauces for homemade pastas. Butter is infused with freshly picked herbs like chives, rosemary, sage or oregano. "We just don't write it all out," Briske says of the menu. "If we listed every ingredient, the menu would be four pages."
Mariquita Farms is Home's predominant supplier for produce that doesn't hail from the on-site garden. "During the winter, we were basing our menu on what they had," says Briske. Home also uses Swank Farms, Live Earth Farm and Blue Heron Farms.
Briske and Ritten have two girls, ages 2 and 6, and the restaurant is family friendly. One benefit of having Home, says Briske, is having a place where the kids can run around. During the summer, Home plans to grow tomatoes—and they'll encourage all visiting kids to pick them.
3101 N. Main St., Soquel; homesoquel.com.
Shadowbrook
The on-site garden at Shadowbrook, a turf roof that covers the restaurant's kitchen area, was originally planted 40 years ago with ornamental flowers. "Then it morphed into having some kitchen products, and now it primarily features edible plants," says Executive Chef Roger Gowen.
During the spring, Shadowbrook gardener Carol Fuegel, who has worked there for a decade, harvests herbs and spices for the bar and kitchen. Fresh mint is featured in cocktails, and garden basil appears in a gin-based specialty cocktail called the Basil English Cucumber.
Herbs like rosemary, spearmint, thyme, and sage can be found in the garden nearly year-round, and are used to season soups, mushroom ragout and sauces. "They are also important ingredients in some fish and steak recipes," says Gowen. "For a past special, I used lemon verbena from the garden for a poached sea bass dish."
Kale and Swiss chard grow during early spring and mid-summer. In late summer and early fall, Shadowbrook harvests Padrón peppers and purple heirloom tomatoes, among others.
Because the basic menu changes three times a year (not counting seasonal dinner specials), the garden also changes from season to season and year to year. For example, per Gowen's request, edible flowers will soon be planted to garnish plates and season fish and other light summer entrees.
Shadowbrook sources fruits and vegetables from local farms to supplement the garden's produce. One farmer Gowen relies on is Dan Haldeman. "He's a wonderful farm partner to Shadowbrook," says Gowen. "Not only do we get great items from him, like phenomenal pear tomatoes last year, he actually asks me, 'What can I grow for you?'"
Gowen, who has been at Shadowbrook since 2012 and was promoted to executive chef in 2014, believes the garden greatly enhances the restaurant. "It inspires ideas for the regular menu and specials," he says, recalling an instance when there was an abundance of basil. He used the basil to create pesto for a Rock Room pizza special, which he says customers loved.
The garden also provides respite from a busy kitchen: "There are benches alongside the garden that provide a wonderful place to take a break, think and relax in a beautiful setting," he says.
1750 Wharf Road, Capitola; shadowbrook-capitola.com.