Both the City and the County of Santa Cruz have reaffirmed "sanctuary" status, establishing our jurisdictions as safe spaces for undocumented immigrants. But in the face of the Trump administration's controversial new immigration policies, how far can local policy really go?
By Joel Hersch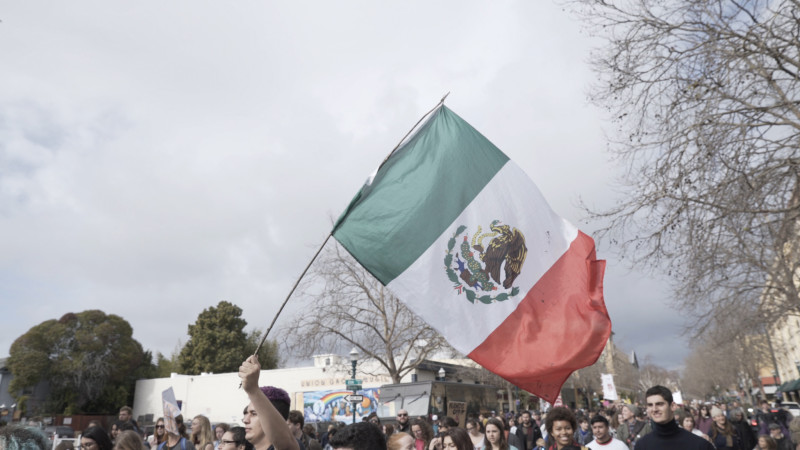 In the hours just before sunrise on Monday Feb. 13, the sound of a police helicopter thudded low over homes in the Beach Flats neighborhood—armored vehicles bearing the insignia from the Department of Homeland Security (DHS) blocked off several streets while heavily-armed officers wearing combat gear zeroed in on the Nueva Vista apartment complex.
The operation, which was conducted by the DHS Investigations (HSI) unit with support from the Santa Cruz Police Department, was the culmination of a years-long case targeting suspected members of MS-13, a notorious street gang with origins in El Salvador. Ten men with nicknames like "Meduza," "Profugo," and "Penguino," had arrest warrants for crimes that included extortion of a local business and multiple murders. Knowing that the subjects were likely armed, police ordered the apartment complex's residents—mostly Latino immigrant families, some undocumented—to come outside with their hands on their heads. Similar gang raids with federal agents were simultaneously taking place in six total locations across the county.
The operation was a success—10 suspects were taken into custody; a sweep of the Beach Flats apartment afterwards bore the discovery of guns and machetes, police said. But in the days following, a horrifying realization circulated through the immigrant community, making its way to the SCPD and into the City Council chambers—the agents from HSI had arrested 10 additional residents based solely on their status as undocumented immigrants.
The City of Santa Cruz is a sanctuary jurisdiction, meaning no local resources can be utilized to enforce immigration law, which put the SCPD's involvement in a compromising position. Police Chief Kevin Vogel stated during a press conference that HSI lied boldly to SCPD about the immigration enforcement aspect of the raid, which police say occurred after local officers were off scene.
The incident illustrates a deepening disconnect between the policies of local jurisdictions and how the new president's administration is handling immigration law—with about 21,000 undocumented individuals in Santa Cruz County caught in the middle, unsure of what tomorrow holds for them and their families.
Under President Donald Trump's Jan. 25 executive order, "Enhancing Public Safety in the Interior of the United States," new rules make the nation's estimated 11 million undocumented immigrants fit a new criteria for deportation. The administration has stated that their priority for removal focuses on undocumented individuals who "pose a threat to public safety," including anyone who has simply been accused of a crime. But immigrant rights groups say the level of discretion given to authorities is so broad that just about anyone lacking documentation could be apprehended, detained and expelled from the country.
With the open hostility from the federal government, it has fallen on local jurisdictions to take a stand for their undocumented population's sense of security—and that has taken place in the form of more than 300 declarations and resolutions of sanctuary status.
There is no legal definition for a sanctuary jurisdiction, though a core aspect is policy that dictates that a city or county's law enforcement agency does not facilitate Immigration and Customs Enforcement (ICE) efforts, such as inquiring into people's legal status, jail staff honoring extended detainment requests, or proactively reporting information about inmates to the Department of Homeland Security.
The cities of Santa Cruz and Watsonville have both had sanctuary policies for many years—Santa Cruz since 1985. Both cities re-affirmed their sanctuary directives in the week prior to Trump's inauguration, and the Santa Cruz County Board of Supervisors adopted a "Resolution to Maintain Trust and Safety for Local Immigrants" around the same time. It states that maintaining trust between California's immigrant residents and local agencies is "essential to carrying out basic local functions … and that trust is threatened when local agencies are involved in immigration enforcement."
But, as Trump's administration ramps up what could potentially serve as a mass deportation apparatus—which includes a mandate to hire 10,000 new ICE officers—how much can sanctuary policy really stand in the way?
Paul Johnston, who is a public sociologist affiliated with UC Santa Cruz and a lead organizer for the local group Sanctuary Santa Cruz, says that policy is a key component, but as deportation efforts increase, it will require boots-on-the-ground community activism—"people who are wiling to take a stand," he says.
Johnston says that under the executive order, the definition of who can be deported has been so significantly expanded that innumerable hardworking, law-abiding families will be split up by ICE raids.
"That's a hole that could suck in an awful lot of good people," he says.
A number of the undocumented residents who were arrested during the gang raid were taken to a DHS detention facility, served with immigration papers, and allowed to go home with ankle bracelets, meaning future deportation could be in store. Moving forward, some community members are prepared to do everything in their power to keep these kinds of arrests from taking place.
In conjunction with Sanctuary Santa Cruz, which has more than 300 volunteer members, local organizers have also established a group known as Your Allied Rapid Response (YARR). The formation of YARR enables a rapid response network of locals—approximately 300—who say they are prepared to interfere with ICE incursions.
According to Sanctuary Santa Cruz coordinator Ernestina Saldaña—formerly an undocumented immigrant herself—members of YARR are willing to "peacefully obstruct" ICE deportation efforts at targeted individuals' homes and assist in any other ways possible.
"For immigrants who are targeted and manage to escape the neighborhood, [YARR members] will also help them get to a safe place," she says.
Some members of the YARR network are also willing to lend their own homes as safe houses for targeted immigrants for "anywhere from a week to six months," says Saldaña, who was born in Mexico and came to the United States 28 years ago without documents. It took her 10 years of bureaucratic hoop jumping to acquire legal status, which she says explains why so many people come into the country illegally.
Following the gang raids, Saldaña says that her trust in the SCPD has dampened significantly. However, she still holds out hope for immigrants rights in Santa Cruz, where she feels the community has demonstrated a determination to make all people feel safe.
"I refuse to allow the fear of what happened destroy that feeling," she tells Santa Cruz Waves. "That's why I'm volunteering with Sanctuary [Santa Cruz]—to ensure I live the rest of my days with peace and freedom by my side, able to see the beauty surrounding me and able to show this to my grandchildren."
According to Johnston, it is these kinds of grassroots efforts, and the willingness to stand up for people in one's community when they need help, that begins to truly define the nature of "sanctuary status."
"These actions are a reflection of our culture," says Johnston, who, prior to academia, formerly organized for the United Farm Workers Union. "The most important goal for us right now is helping the thousands of families that are panicking to get access to the information they need to know their rights, to have a plan to protect themselves, and to take care of their kids in the event that ICE does come to their door.
"We're heading into a period of struggle across this country and it's a time when we're going to have to reach out to each other, support each other, and move forward together," he says.
Deputy City Manager Scott Collins says that following the February 13 operation, a significant degree of trust was lost from the immigrant community, but that the city is working make it right. He says that the city is establishing new immigrant outreach services and hiring a new employee to assist immigrants struggling with deportation and legal issues.
City schools were heavily impacted following the arrests of undocumented residents. Attendance across the school district plummeted, and it was determined that many students stayed home out of fear that deportation enforcement could be occurring throughout the city.
"Parents were worried about their kids, so a huge component of rebuilding trust is through the school district," Collins says.
Collins says that the city is working with Congressman Jimmy Panetta and Senator Kamela Harris to attain clarity on why the gang enforcement operation happened the way it did. What they discover will inform SCPD's decision to work with HSI in the future.
"It's going to be hard to trust that organization moving forward," Collins says.
On Tuesday, Feb. 28, after months of pressure from Sanctuary Santa Cruz and various community members, city council dropped a resolution of trust and safety for local immigrants in exchange for an ordinance, which Saldaña says establishes strong accountability for public officials in the ways they uphold sanctuary policy.
Collins says that, legally, immigration enforcement falls under the purview of the federal government, and that there are not laws preventing ICE from conducting incursions locally, despite a sanctuary ordinance, but that the city's police force will not be involved—if they know that immigration enforcement is occurring.
During the Feb. 28 city council meeting, Deputy Chief Dan Flippo stated: "We are not trying to distance ourselves from the gang enforcement aspect of this case [with HSI] but the immigration enforcement during the raid shouldn't have occurred…We don't enforce immigration law, it's beyond the scope of a local jurisdiction."
In regard to the way the HSI maneuvered the immigration arrests, Chief Vogel added that he wonders "where else in America this is happening."
The county sheriff's office, headed by Sheriff Jim Hart, does not honor ICE hold requests—which enable federal agents to come apprehend undocumented detainees even after their release date—nor enforce immigration law in any way.
Sergeant Chris Clark says that acting on behalf of ICE puts local law enforcement further out of tune with immigrant populations, who become less inclined to report crimes, cultivating a new category of victims.
In 2016, seven inmates were released to ICE out of an approximate 8,700 total bookings in the Santa Cruz County jail, Clark says.
While the protocol at the sheriff's office for undocumented individuals meets the basic standards of sanctuary status, by contemporary definitions, Clark distances the department from association with sanctuary terminology.
"It's not to my knowledge that we've adopted that title, as a sanctuary county," Clark says. "But we're taking all the measures we can to protect the rights of the people who live here in our county and keep people safe."
The phrase "sanctuary city" can have very different meanings, depending on which side of the coin it is examined from. To one person, it suggests organizational criminal activity and harboring criminals, while to another, it conveys protection of civil liberties and the defense of one's own community.
"It depends on who you talk to and what they mean by the terms," Johnston says.
The executive order has language that empowers the attorney general to designate jurisdictions as "sanctuary" for the purpose of "punishing them," which Trump has suggested could be actionable by withholding funding. The term could also lend ICE further priority on what jurisdictions they choose to target.
"So," Johnston says, "I can understand [the Santa Cruz County sheriff's office] not wanting to put a target on their back. But, by the policies employed [there], and by everything the board of supervisors has set in place, this county is absolutely a sanctuary county.
Sanctuary policies set forth around the country do put local governments at odds with an administration that has demonstrated zero qualms with pushing its powers on states, counties, and cities, and Trump will likely do everything he can to manipulate them into towing his lines on immigration. But, Johnston states, whatever repercussions come as a result of standing by sanctuary policies, it is worth it.
"Ultimately, what I've been hearing from major jurisdictions like San Francisco, LA, and the state itself, leaders are prepared to stand for their values, even if it means paying a price," he says. "We're a wealthy state, we're a wealthy community, and we're not going to sell out our most vulnerable population—not to the Trump administration, not to anybody."
Santa Cruz Waves  Vol 3.6 —April/May  2017
Photo gallery by Leslie Muirhead