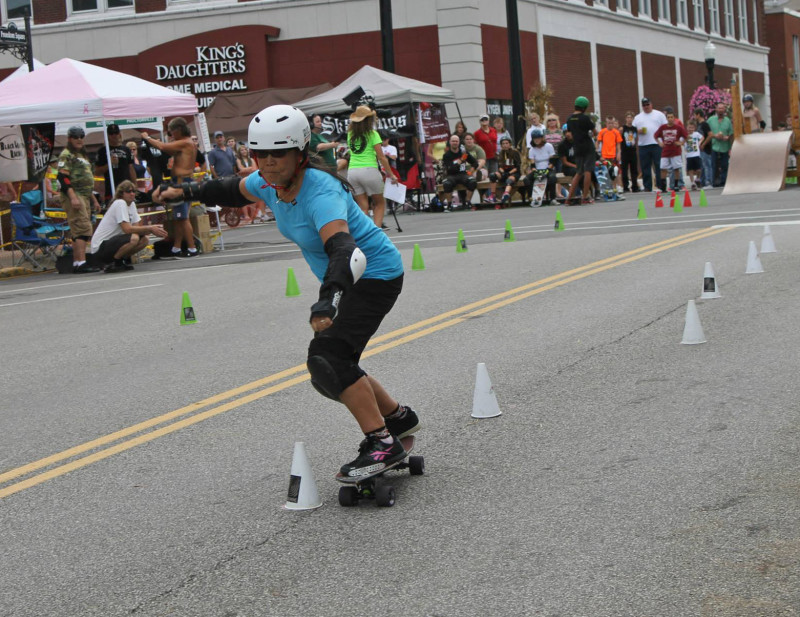 Local Pro slalom skateboarder Judi Oyama returns from World Championship in Kentucky
By: Melissa Duge Spiers
Pleasure Point-native Judi Oyama is a successful graphic artist, entrepreneur, CrossFit buff and the owner/creator of the wildly successful clothing line Badass Skatemom. She was also a crew member of the first female skaters during the 1970s who were tearing up the parks, empty pools, and half pipes. Today, Oyama is a local mother, the owner of the design company Maximum Impact Design, and the founder of a new clothing line called "Badass Skatemom," featured in the upcoming issue of Santa Cruz Waves magazine. Still the badass skater she always has been, Oyama returned recently to Santa Cruz after competing in the 2015 International Slalom Skateboarding Association (ISSA) World Championships in Kentucky. We caught up with her to hear about the competition.
Melissa Duge Spiers: How did the World Championships go?
Judi Oyama: The races went well! I got First in the Hybrid, Tight Slalom, and Giant Slalom. I won the Women's Overall. We raced a little outside of Ashland, KY on the first and third day: it was a bigger hill. The second day was downtown in conjunction with a big "Poage Landing Days" event.
MS: What are the pros and cons of riding with the men?
JO: No cons – it is fun to race the men. When I got to the bottom of my Giant Slalom run, both male masters competitors I raced with told me that I beat their times. I usually don't keep track of the times. I'm just happy to make it down the hill and have fun. This race had a women's division, though it was small—just 3 women. One was from Canada and one was a local Kentucky racer.
MS: What is new in the Badass Skatemom line?
JO: Future new graphics include: Cooper the dog on the skateboard and a mini Badass Mermaid with a jump rope and Kettle Ball. I did a run of onesie's and kids' sizes that have been well-received, also.
I'm currently finishing up a new Crossfit Work-out log book with Zac Pine, one of the owners at Crossfit Head Quarters (as well as a Level 2 Crossfit coach & anatomy illustrator). Any Box (as devotees call to their local Crossfit gym) can order them and I can update the logo and page info so that they are custom-designed for each Box. I am also creating a Crossfit Box kit for owners. It contains all the basic essentials for our specialized graphics and signage.
MS: What is next for you in the skateboarding world?
JO: Planning on trying to break my 100 Cone World Record run and take my Women's Masters record back.
MS: Where can people see your stuff, place orders, and follow all your endeavors?
JO: Check out these links!
http://maximumimpactdesign.com
http://judioyama.com
Judi Oyama's clothing line "Badass Skatemom" boasts her own original designs that explore imagery of women kicking booty—practicing CrossFit, doing handstands, and generally owning at life. Look for Oyama's story in the upcoming October/November issue of Santa Cruz Waves magazine under Featured Artist.
Follow author Melissa Duge Spiers on Instagram & Twitter: @mdugespiers. (www.melissdugespiers.com)