There hasn't been much surf lately around Santa Cruz so I decided to go shoot some skating.  I hit up Ethan Rupp and asked him what he would be down for.  He wanted to skate street so he and Chasen Christensen hopped in my car and we drove around town to see what we could get.
Photos: Alex Kiuchi
Ethan Rupp warming up at the park before heading out to hit the streets.
This is Ethan about to stick a hardflip down the 4 stair at Mike Fox. You normally want to get the stairs and ground in a shot like this but he gets so much pop on his hardflips that i had to adjust and aim up higher to make sure I got him in the frame.
Backside boardslide on his way out of the park.
We had to wait a few minutes for some other guys that were going to join us so he decided to back up that boardslide with a feeble just for good measure.
The first stop of the evening was SC high. Ethan started things off with a properly tweaked ollie over one of his friends.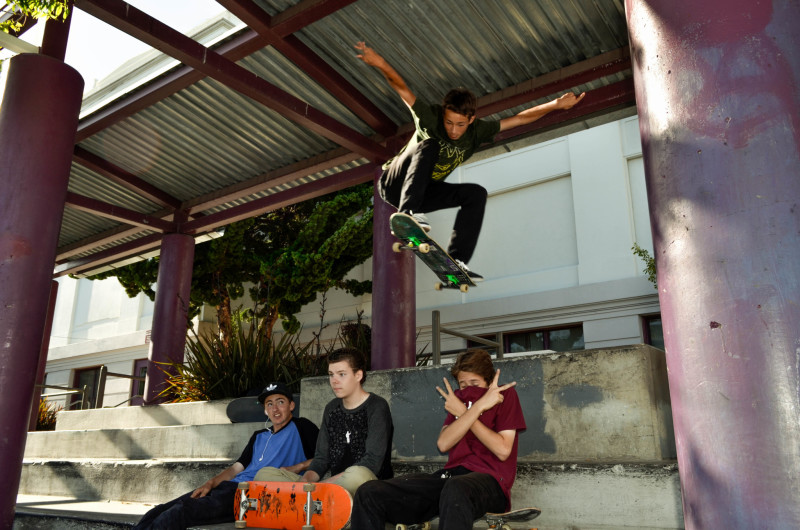 Chasen Christensen decided he wanted in on the shot too so I moved around to get a different angle.
Ethan, kickflip over the 3 block. You can tell hes done this a lot.
Ethan and Chasen, doubles.
We went over to the banks near Meder st park and got a few shots. This was my favorite from the bunch. Chasen and Ethan, speeding down the line.
We went up to UCSC to hit a few more spots before the sun went down. Of course you have to bomb a hill when you're up here, especially now that the campus is empty.
Ethan negotiates the UCSC 11 stair. It didn't help that we had the added pressure of security trying to make us leave.
Chasen stuck his first attempt but rolled forward. He managed to roll away on his second try.
Ethan got his immediately after. Big thanks to the campus security guard for letting us get this shot.
You can find Ethan and Chasen on instagram:
Ethan Rupp: https://instagram.com/kickthecheff/
Chasen Christensen: https://instagram.com/chasen__1/
Photos: Alex Kiuchi